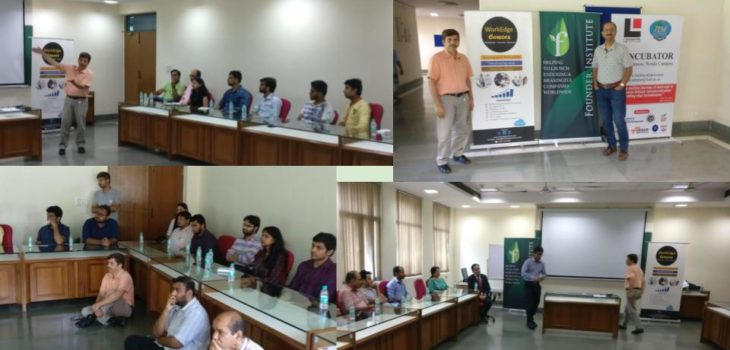 The Founder Institute is the world's premier pre-seed startup accelerator. Since 2009, we have helped over 3,100 companies raise over $700M and build some of the world's fastest growing companies. Based in Silicon Valley and with chapters across 60 countries, the Founder Institute's mission is to "Globalize Silicon Valley" and empower talented and motivated people to build impactful companies that create one million jobs.
Shashidhar is leading the Noida chapter along with Rajesh Malik and Aviral Pal for the new semester launch on 23 July 2018. The 14 weeks structured program is scheduled between November 2018 to February 2019. Now we are recruiting a batch of 30 aspiring founders through a series of content events.
We did our first event at the prestigious management institute, IIM Lucknow Noida campus on 11 August 2018 with the support from L-Incubator. There were around thirty five participants and three speakers attended the session. Indeed, it was a great experience interacting with professionals on the theme of 'The Leap from Employee to Entrepreneur'.
The registrations are open at https://fi.co/apply?target=Noida The Founder Institute focuses on founders instead of ideas. If you are talented and motivated to do the work required to build an enduring tech or tech-enabled company, then we want to hear from you. This includes aspiring founders with a full-time job, solo founders, teams, and founders of established companies that are pre-funding.