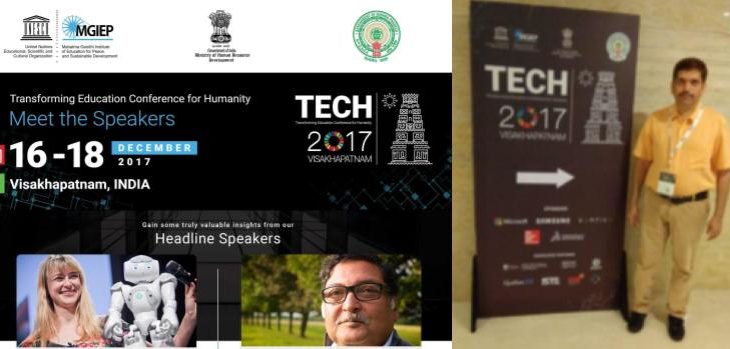 UNESCO MGIEP's projects are designed to mainstream socio-emotional learning in education systems, innovate digital pedagogies and to put youth as global citizens at the centre of the 2030 agenda for sustainable development in order to achieve SDG 4.7. More details are available in their website I did participate in one of their international conferences during 2017 at Visakhapatnam presenting my paper on AI powered Lifelong Learning Exploration to spread the awareness about Artificial Intelligence.
Prof M M Pant has inspired me to initiate this project. AI2AI – The project is driven by two very powerful ideas. One is the observation by the subject authority Andrew Ng that 'Artificial Intelligence is the new electricity'. And the other is the belief that 'Teaching is the mother of all professions'. So, if we want to align all the existing professions in the emerging 4th Industrial Age to the era of 'Artificial Intelligence', then a suitable educational model is the answer. This project is about conceptualizing, designing, developing and delivering the new model invoking AI to deliver courses on AI awareness as a first step. We introduce Co-Learning spaces and TeacherPreneurs powered by utilities of AI. Artificial Intelligence was the favourite subject of Shashidhar during his final year of engineering studies at Mysore, way back in 1991. The sudden rise of AI in recent 3 years and its push by industry majors have fueled his interest to take up such projects.
Fortune Magazine asked all the CEOs of the Fortune 500 what they believed the biggest challenge facing their companies was. Their biggest concern for 2017: "The rapid pace of technological change" said 73% of those polled, up from 64% in 2016. Cyber security came in only a far second, at 61%, even after all the mega-hacks of the past year.
So, what does "technological change" entail? For almost all Fortune 500 CEOs, it means, in part, artificial intelligence. "Forget The Hype: What Every Business Leader Needs To Know About Artificial Intelligence Now," AI is on the lips of almost every global CEO and Board of Directors.
A Lifelong Learning – Mobile First Approach: The marriage of Learning and Mobility has worked indeed! The simplest case, we have delivered more than 30 courses on WhatsApp with an audience more than 5000 from 20 countries on the topics like Computational Thinking, AI & ML, Learn How To Learn, Become a TeacherPreneur, Become a Lifelong Learner etc.
The proposed AI2AI is the Heutagogy based revised version of these courses to improve the delivery, impact and the credentials. In fact, we intend to pick the tools like IBM Watson and Microsoft QnA maker along with few AI startups from our network to enhance the learning experience. We are evaluating BlockChain technology for certification. We break the barriers for a seamless transformation in education as a preparation for the 4th Industrial Age!