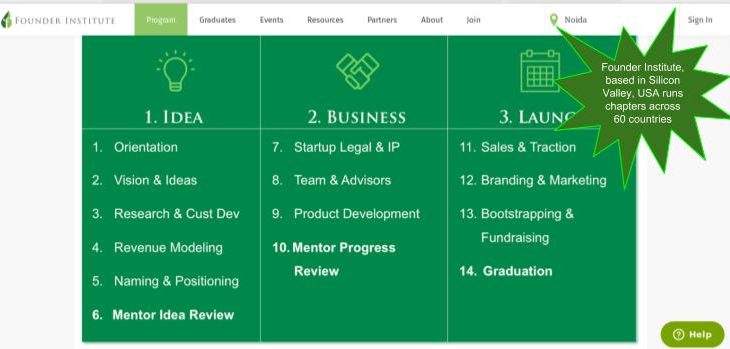 I am sharing my learning by doing things at Founder Institute for their local semesters at Delhi and Noida. Indeed, it is a unique value proposition Founder Institute offer to the local startup ecosystem helping the stakeholders in many ways.
The Founder Institute is the world's premier pre-seed startup accelerator. Since 2009, we have helped over 3,100 companies raise over $700M and build some of the world's fastest growing companies. Based in Silicon Valley and with chapters across 60 countries, the Founder Institute's mission is to "Globalize Silicon Valley" and empower talented and motivated people to build impactful companies that create one million jobs. Thanks to Adeo and his team for the great work.
Let me pick up one element of the system. The Equity Collective is an interesting part of FI system fostering the collaborative startup culture. As you can read it on their web page starting a company can be a lonely journey. In addition, too many aspiring entrepreneurs never start, and too many pre-seed businesses fail, because they lack expert feedback and proper focus during the earliest stages. To help entrepreneurs in the earliest stages of a business establish a critical support network of both like-minded and successful local entrepreneurs, the Founder Institute developed a groundbreaking Equity Collective where everyone shares equity in the companies formed from each program cohort.
Here's how it works – each Founder Institute Graduate contributes 4% of their company equity in Warrants to a fifteen-year Bonus Pool with other peers from the current cohort. When a liquidity event occurs, the Pool returns are then distributed in parts to a) Founder Institute b) Local Leaders c) Mentors d) Cohort Participants almost equally.
3/4 of the Pool Returns come back to the Local Community
1/4 goes right back to the program Graduates, split evenly.
1/4 goes to the program Mentors, and each Mentor's individual share is based solely on anonymous ratings received from the Graduates. This incentivizes Mentors to take an active role in each cohort's success.
1/4 of the Pool Returns go to the Local Program Directors, where I belong to, for their efforts in organizing, building, and running the local cohort.
1/4 of the Pool Returns go to the Founder Institute, which provides operating capital for the business.
When one Graduate company succeeds, every participant from that program cohort receives a financial upside.
This is really fascinating to me to associate with Founder Institute. The thoughts are aligned with greenworkforce business model.