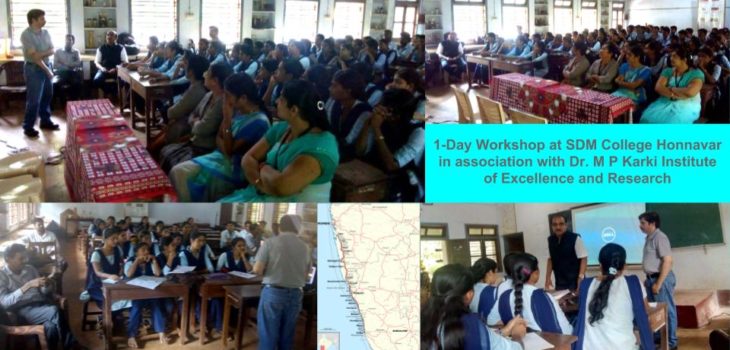 I am thankful to Prof. S S Hegde, Principal at SDM Honnavar and Dr. Shivaram S Shastri, Director at Dr. M P Karki Institute of Excellence and Research for arranging a workshop on Micro Entrepreneurship addressing their pre-final year students. The focus was on the digital age opportunities for the young as an alternate path in their professional career.
Freelancing provides the crucial experience you need to become an entrepreneur. Lack of experience is the key factor preventing many people from making the break from their nine to five jobs and setting up on their own. However, there is a straightforward solution to help people like these gain experience, contacts and confidence: freelancing! With reference to the college students, I stressed on the topic encouraging them to make attempts to become a freelancer even before they graduate from the campus actually.
I did demonstrate how curated Open Education Resources are handy in preparation for their future as a lifelong learner. We referred nano courses from http://www.life-global.org/ which has more than 30 topics relevant to entrepreneurship and small business. These simple but, complete package of learning contents of global standards are easy to access, learn and practice at their own pace. In fact, the audience like it very much.
The work practices as a freelancer were demonstrated live with reference to popular global online marketplaces like UpWork and Guru. The complete cycle is explained to them – how to setup an account, complete the profile with relevant information, how to find jobs, apply, earn money and gain online reputation with great feedbacks.
Freelancers are Solopreneurs or micro entrepreneurs. One has to manage everything that a startup demands at an individual level. We at greenworkforce are on a mission to groom such micro entrepreneurs everywhere.