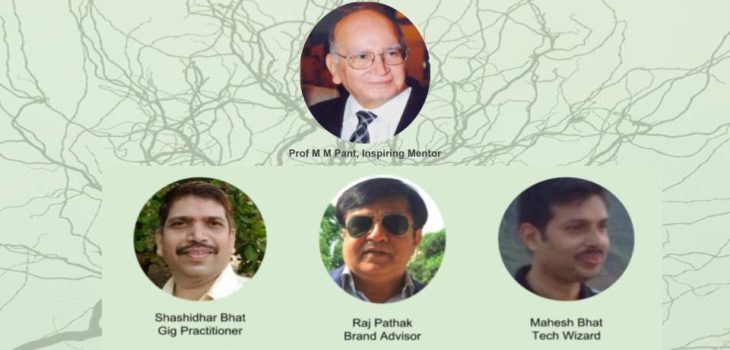 Prof. MM Pant is a Ph.D. in Computational Physics with a professional degree in Law.
After a long innings of 50+ years as an academic researcher, a lawyer and an educational entrepreneur he is now exploring new pedagogy, technology and curricula for the future, with focus on the period heralding the fourth Industrial Age.
His special focus is on mobile Whatsapp-based lifelong learning, transcending traditional education, and blending personalised and social learning. Some of his current educational initiatives are: Making sense of Artificial Intelligence, Coming of Age in the 4th Industrial Age, Smart Parenting and Developing Teacher-Preneurs. To know more: https://mmpant.com/about-prof-mm-pant/
Shashidhar is a senior ICT professional turned social entrepreneur and small business advisor. Prior to getting into his own venture greenworkforce.in , he worked rigorously in ICT domain for more than twenty years  introducing  internet, messaging, security and networking technologies to the industry verticals on consulting approach. He has worked for Indian and multi national companies at various capacities adding values to their businesses.
He has attended Engineering in Computer Science from Shri Jayachamarajendra College of Engineering, Mysore, India during 1988-92 .More at https://www.linkedin.com/in/greenworkforce/
Raj K Pathak Proactive and creative media professional with a demonstrated record over 15 years of conceptualizing and producing content for SME and Startups across television, Print, Radio and Online channels. Well known for business Mantra TV series on DD and SME CEO Knowledge TV. He was also associated with CNBC TV18 and CNBC Awaz.
Raj is passionate about seeing the world and has traveled to 40 countries across all the continents. His personal website is http://www.rajkpathak.com/
Mahesh Bhat is a self made Tech Professional freelancing all his professional career catering to global clients. Coding, problem solving and digital world attract him all the time though trekking in Himalayas is his first choice.
Mahesh is a specialist in buiding web solutions to the small busineses. He has delivered more than 100 projects so far.