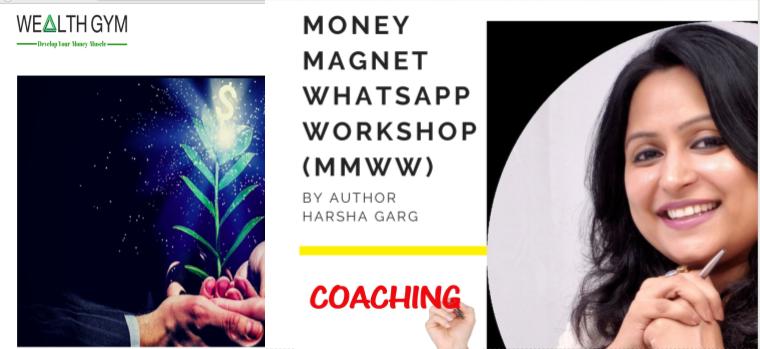 MONEY MAGNET WHATSAPP WORKSHOP
Some people have the abundance of money and are still attracting more of it, while others despite putting in lots of efforts & time get a
little and have lack and scarcity. If you feel any of the following:
$ Despite putting lots of efforts & time, still not able to make as much Money as you want.
$ Any issue related to lack of money.
$ Not getting as much money as you deserve.
$ Facing delays in receiving payments in business.
OR
$ Do you intend to reach to the next level of financial Abundance?
Wealth Gym is about the wealth fitness routine. It is about attaining the true wealth one crave and deserve in all areas of his life. It is a full 360 degree look at one's Wealth Fitness. As John Paul Getty once said, "Anyone can get rich but it is a totally different thing to Be Rich". This goes for being Rich in "Self-Wealth, People-Wealth and Financial-Wealth", because we need to understand that, the area that we do not work out consistently is the area that will take us down in our life.
True wealth fitness takes commitment and disciplined following up of routine. At wealth gym, follow the wealth fitness workout routine carefully laid out and see that you can overcome those limiting beliefs that may have been holding you back in the past. You will start to believe in yourself and not be held back by what other people think of you. You will get the know-how and coaching support in your actions in your journey of wealth creation.
MONEY MAGNET WHATSAPP WORKSHOP (MMWW)
A MUST ATTEND MONEY MAGNET WHATSAPP WORKSHOP @9891060247